The Future Energy Show, the largest renewable energy event in the Philippines with over 8,000 attendees, is taking place from the 7th to the 8th of September in SMX Manila. The event will spotlight the latest sector expertise in the region with insightful sessions on topics including solar power, project development and grid technology.
ESB International is honoured to be both exhibiting and presenting at the event. We'll be joined by over 100 exhibitors showcasing the latest renewable and smart energy solutions across Asia and over 70 speakers sharing innovative insights. ESB International's participation in this knowledge-sharing and networking platform demonstrates our commitment to business development and growth in the South-East Asia region.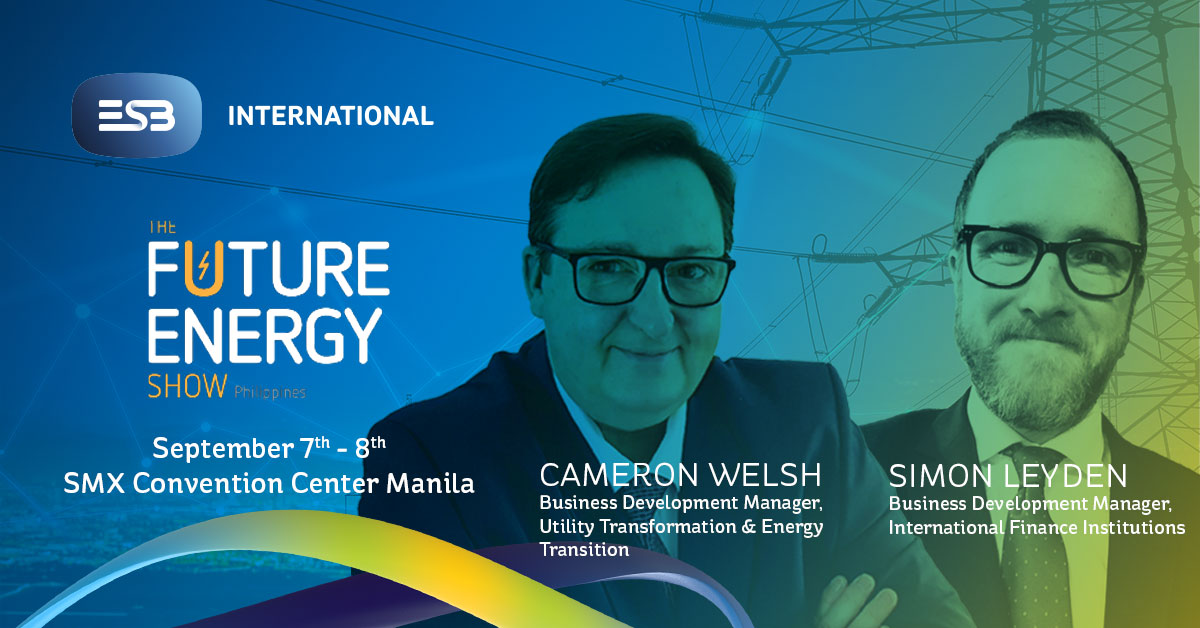 ESB International is delighted to be represented by one of our experts at the technical conference.
Cameron Welsh, Business Development Manager, will be presenting a session at the conference's Large Scale Solar Theatre on 7th September at 14:00:
Accelerating Energy Transition Through Utility Transformation at ESB International
This presentation will highlight ESB International's track record of Utility Transformation expertise and look ahead to the future of ESB's Net Zero 2040 strategy.
Click here to view the conference agenda.
Find us at the Conference:
Set up a meeting with us:
If you would like to meet with one of our team, either during or outside the conference, don't hesitate to reach out through marketing@esbi.ie
Register to visit the Future Energy Show.
About Us
ESB International is a global energy engineering consultancy owned by the Irish state electricity company ESB. As a utility-based consultant, we have developed, maintained, and operated resilient energy infrastructure internationally for five decades and in Ireland for 100 years – it's in our DNA.
We advise on the shaping of electricity markets and the futures of utilities achieved through close collaboration with our clients to navigate technological and environmental challenges to deliver resilient infrastructure. To date, we have completed projects in over 120 countries worldwide and specialise in:
Utility Management & Transformation
Strategic Consultancy Market Reform & Energy Transition
Emerging Technology Insights & Advisory
Transmission & Distribution Engineering, Supervisory & Advisory
Generation O&M, Asset Management, Owners Engineer & Advisory Services